This week I did another one of my polls at my local business club. Of 30 SME owners 30% had Google+ accounts, and of these interestingly only 20% kept themselves logged-in to their Google account all the time. That last bit is important. Read on…
The SEO question
The question many businesses who have a web presence want answered is: Does Google Plus give me the SEO tool which will gives my business the strong Google results my efforts deserve? The answer appears to be no. [SEO = Search Engine Optimisation]
There are benefits to partipating on Google Plus:
you can make your Google listings stand out with +1 's (more or less equivalent to a Facebook "like" in Google land); and
you can add authorship information to articles.
But the main benefits will be when you use Google Plus as part of a bigger Social Media strategy to engage and interact with clients or customers. And of course there is always using it as a general SOCIAL tool.
Did I tell you about that time I thought I'd cracked it?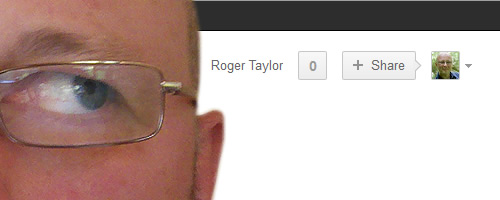 A while ago I had added content to my Google+ account, then shortly afterwards when I did a Google search for my listing I was No.1 for a generic search term. That made me sit up I can tell you. I phoned my client to discuss what was happening but he didn't get the same results. Odd.
It's simple really. I was logged into my Google + account and he wasn't. Google uses a tool called "Search plus your world" (SPYW).  This ADDs content from Google+ to your standard Google results and does the same for anyone in your Circles who is logged in (but not for all Google users). When I logged out of my Google account – the amazing results disappeared.
I was interested in the idea that Google obviously wanted to provide relevant content for each user and less of a generic results machine for all. So assuming you had lots of people in your circles your Google experience would provide you with content you would be more likely to find interesting. "Circles" are Google's equivalent of Facebook's "Lists" – you can group people together according to how you categorise their content or how you are connected to them. (The people you add are only told that they have been added to your Circles – they are not told the name of the Circle you have put them in to.)
If I was a business wanting to get my brand in front of lots of users this would be a very useful marketing tool. I would of course need to find a way of tapping in to big Circles.
There are three things I regard as issues:
Volumes of users in Circles: Â This is a game that relies on quantities of users. If my poll is anything to go by this is currently a problem. (So, you would need a strategy to be pretty active at connecting on Google+ in order to be in anyone's Circles)Â 
People aren't logged in: To get the benefit on Google Search – users need to be logged in
Quality of recommendations: I cannot find many of my friends and contacts on Google +. Content recommended by friends and colleagues is valued, but content recommended by strangers is treated with skepticism. It was Google themselves who said that!
I don't know about you but I find the Google+ admin account controls (look up, look right) are pretty confusing.  It feels like a control panel designed by techies who assume I know what to do. Perhaps that puts people off. But we are going to have to wait a little longer for more people to login before the true power of Google+ is realised. So, play a bit more with the platform and if you can, get your friends and colleagues to too – because my feeling is that unless the take-up of the platform doesn't increase significantly – the "value" of social search for business may be lost.
Have you had any experiences with Google + that have confused you a little? Drop me a comment below and I will most certainly look into it and try to help!